Barbara Stone Foundation Receives $30,000 Grant to Expand Workforce Development Programs for Individuals With Disabilities
Back to News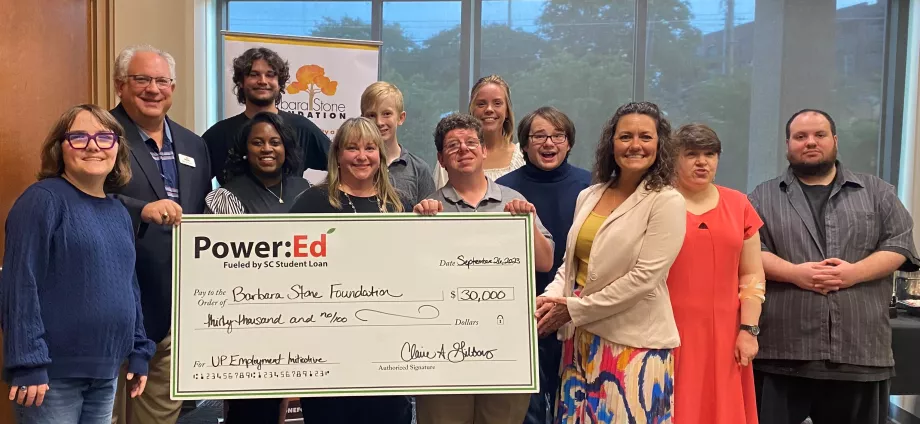 GREENVILLE, SC – October 5, 2023 — The Barbara Stone Foundation (BSF) has been awarded a $30,000 grant from Power:Ed, the philanthropy of SC Student Loan Corporation, to expand the UP (Upward Professionals) Employment Initiative, which offers the foundational structure needed for people with disabilities to achieve successful, competitive employment, and increased independence. BSF works to address systemic issues and barriers surrounding limited hiring practices, earning caps for people with disabilities, and inappropriate placement of work capable individuals in day programs.
"Barbara Stone Foundation's UP Employment Initiative addresses the lack of professional development opportunities and workforce shortages through an innovative non-profit and business partnership," said Lara Ceisel, Executive Director of the Barbara Stone Foundation.  "With the support of Power:Ed and some other important partnerships, our UP Employment initiative will become a world-class workforce initiative – while increasing and improving inclusive opportunities, prioritizing diversity, and strengthening the Greenville community."
Power:Ed's grant will further support pathways to employment and a common-sense solution to a complicated problem for individuals living with disabilities who need employment opportunities. The UP Employment includes three components: a pre-employment program focused on increasing skills understanding and development for anyone desiring employment, employment support services for individuals pursuing employment or already placed in employment, and a year-long professional development class, call the Professional Cohort, that provides professional development and networking opportunities for participants.  
"SC Student Loan and its philanthropy, Power:Ed, are proud to support this important workforce development initiative to help boost the economic independence and opportunities for work capable adults in the Greenville area," said Power:Ed Executive Director Claire Gibbons. "We're excited about the possibilities of what they can accomplish."
In FY2023-24, Power:Ed will award $1,000,000 in grants to South Carolina education and career readiness organizations. In this first quarter, Power:Ed awarded nine grants totaling $265,000 including the grant to BSF. Grants are administered quarterly, and the next grant funding deadline is January 1, 2024.
About Barbara Stone Foundation
Since 1991, the Barbara Stone Foundation has provided funds to improve the quality of life for individuals with disabilities. One priority of the Barbara Stone Foundation is to raise funds to enhance the quality of life for citizens of Greenville County with developmental disabilities, head and spinal cord injuries, and autism. To learn more, visit www.barbarastonefoundation.org or find the organization on Facebook, Instagram, Twitter and LinkedIn.
About Power:Ed
Founded in 2019, Power:Ed, a philanthropy of SC Student Loan is dedicated to creating opportunities for South Carolina's youth and adults by supporting low-income, minority, and first-generation students; improving access to college and degree completion; and creating pathways to quality workforce opportunities. Organizations serving middle school through post-college talent who are interested in applying for a grant or partnering with Power:Ed, should visit power-ed.org. 
Back to News