Back to News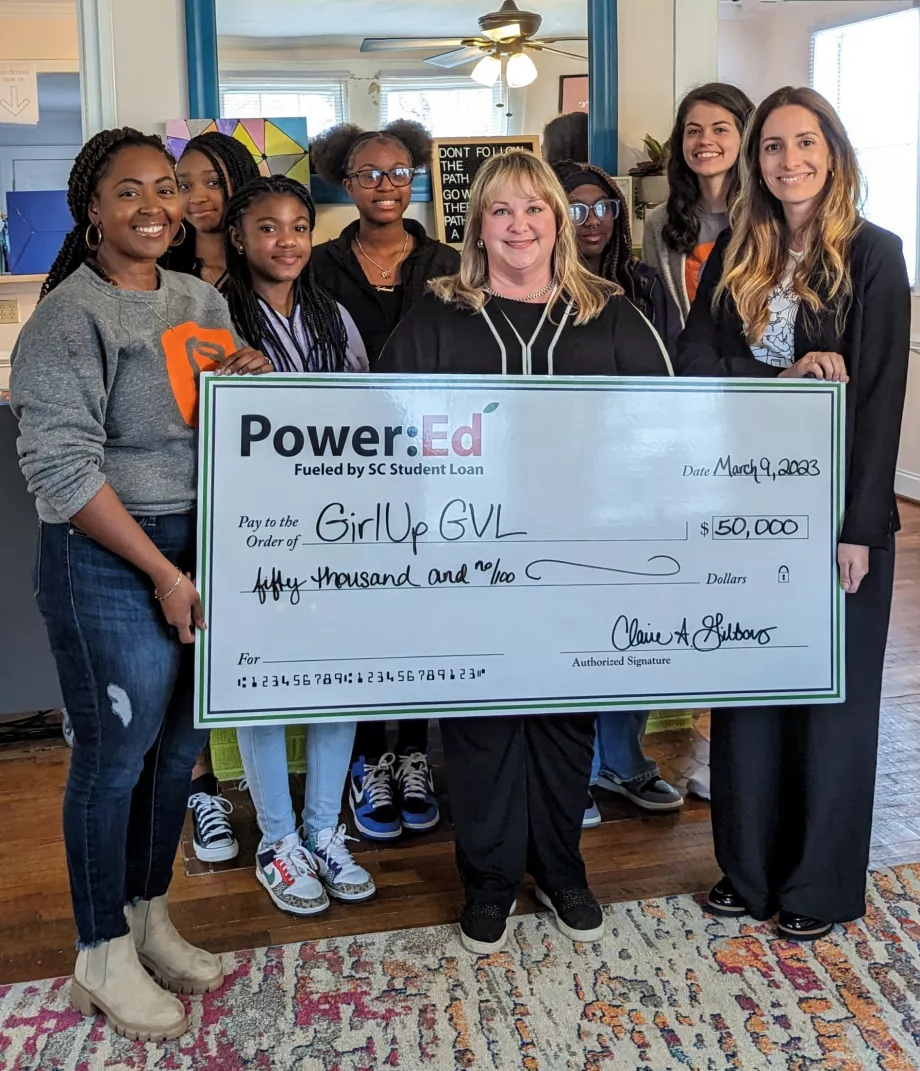 GREENVILLE, S.C. — March 14, 2023 — Local nonprofit, GirlUp GVL, has been awarded $50,000 from Power:Ed, a philanthropy of SC Student Loan Corporation, to ensure 70 area high school girls have the resources they need to succeed in school and in life. The grant supports weekly enrichment classes, individual success planning, academic support, GrowU internships, leadership groups in-school, and more.
"Power:Ed is proud to support GirlUp GVL. All South Carolina children should have the opportunity to succeed regardless of their financial circumstances, and we want to do our part to help reduce barriers and boost education equity," said Power:Ed Director Claire Gibbons. "GirlUp GVL helps its participants become more confident learners in and out of the classroom, and 100% of its graduates have continued on to four-year institutions or directly into a trade. We are excited to see what these girls will accomplish." 
GirlUp GVL is a free life enrichment program that works with middle and high school girls in Greenville County, with a mission to initiate early, life-changing success by empowering girls to reach their highest potential, rooted in their worth and value. GirlUp GVL provides students with a variety of programs designed to support their academic, emotional, physical, and physiological development during the transformative teenage years.
"GirlUp GVL is a place where girls can connect, grow, learn, and flourish," said Kim Mogan, GirlUp GVL Founder and Executive Director. "We are providing experiences to help them discover their gifts and talents, learn life skills, gain responsibility, and reach their greatest potential, and we do this by surrounding them with people who love and encourage them along the way. It is through the generosity of community partners such as Power:Ed that allows us to provide this vital programming. We are honored to have the support of Power:Ed, as we scale up the opportunities for our high school students and empower more high school students in our community." 
In FY2022-23, Power:Ed is investing $900,000 in South Carolina education and career-readiness organizations, and so far this year, 17 nonprofits have been funded. Grants are administered quarterly, and the next grant application deadline is April 1, 2023.
About GirlUp GVL
Founded in 2019, GirlUp GVL is a nonprofit organization focused on enriching young women with positive formative experiences that replace obstacles with opportunities. It equips and advocates for middle school and high school girls in under-resourced communities through after-school support, life skills training, and college/career readiness.
About Power:Ed
Founded in 2019, Power:Ed, a philanthropy of SC Student Loan is dedicated to creating opportunities for South Carolina's youth and adults by supporting low-income, minority, and first-generation students; improving access to college and degree completion; and creating pathways to quality workforce opportunities. Organizations serving middle school through post-college talent who are interested in applying for a grant or partnering with Power:Ed, should visit power-ed.org. 
Back to News