Greenville Chamber receives $60,000 grant to fund educational attainment work
Back to News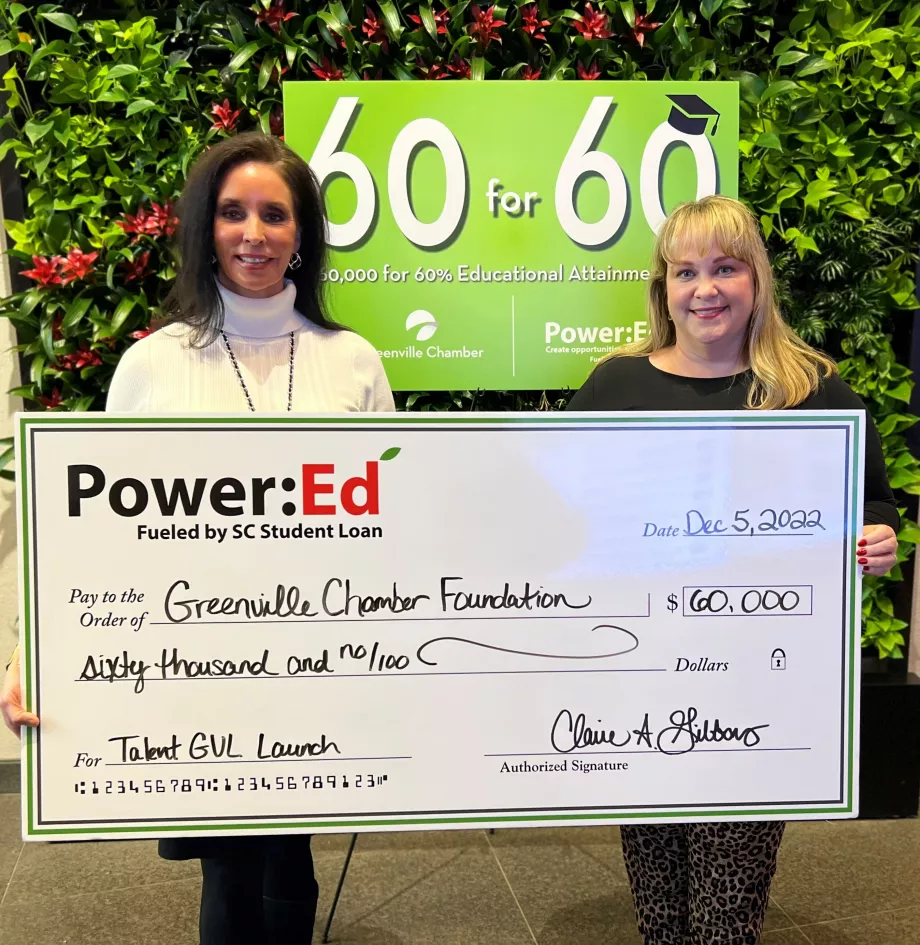 Greenville, SC - December 15, 2022 - The Greenville Chamber Foundation has been awarded a $60,000 grant from Power:Ed in support of the Greenville Chamber's work in increasing educational attainment among working age adults in Greenville County. 
The grant will support the hiring of a Career Navigator position at the Greenville Chamber. This individual will serve and assist adults in navigating barriers to pursuing education and engage in career transitions by helping them understand their postsecondary options and developing a plan to obtain a certification, credential, or degree.
 
The Greenville Chamber through its economic development initiative, Accelerate, has spearheaded an effort to ensure that 60% of adults aged 25-64 have a high-quality, post-secondary certificate, credential, or degree tied to employment and economic mobility. Greenville County currently sits at 45.7% of adults with an associate degree or higher. The Career Navigator position will execute strategies connecting employers, incumbent workers and other adults seeking to access educational opportunities. 
 
"This generous support from Power:Ed will provide tangible, real, and lasting benefits to our Upstate community," said Cheryl Garrison, Greenville Chamber Foundation Executive Director. "Equipping individuals with the skills needed to succeed in our global economy will further strengthen our Upstate workforce and bolster our local economy."
 
"Power:Ed, a philanthropy of SC Student Loan Corporation, is proud to support the Greenville Chamber Foundation and its vital work to dramatically increase local education attainment levels and prepare a pipeline of skilled talent for SC employers," said Power:Ed Director Claire Gibbons. "We are excited by the potentially transformative impact of this pilot program."
 
In the first two quarters of FY2022-23, Power:Ed awarded 12 grants to South Carolina education and career readiness nonprofits, including Greenville Chamber Foundation, totaling over $450,000. Grants are administered quarterly, and the next grant funding deadline is January 1, 2023.
 
The Greenville Chamber expects to fill the Career Navigator position in early 2023.
ABOUT THE GREENVILLE CHAMBER
The Greenville Chamber, now in its 132nd year of operation, is the largest business organization in Upstate South Carolina with over 1900 Investors supporting the vision of a globally competitive Upstate economy where businesses succeed and people prosper. For information, visit greenvillechamber.org.
 
ABOUT POWER:Ed
Founded in 2019, Power:Ed, a philanthropy of SC Student Loan Corporation is dedicated to creating opportunities for South Carolina's youth and adults by supporting low-income, minority, and first-generation students; improving access to college and degree completion; and creating pathways to quality workforce opportunities. Organizations serving middle school through post-college talent who are interested in applying for a grant or partnering with Power:Ed, should visit power-ed.org.
Back to News