Helping Hands of Georgetown receives $30,000 grant from Power:Ed to support more students in its Youth Empowerment Program
Back to News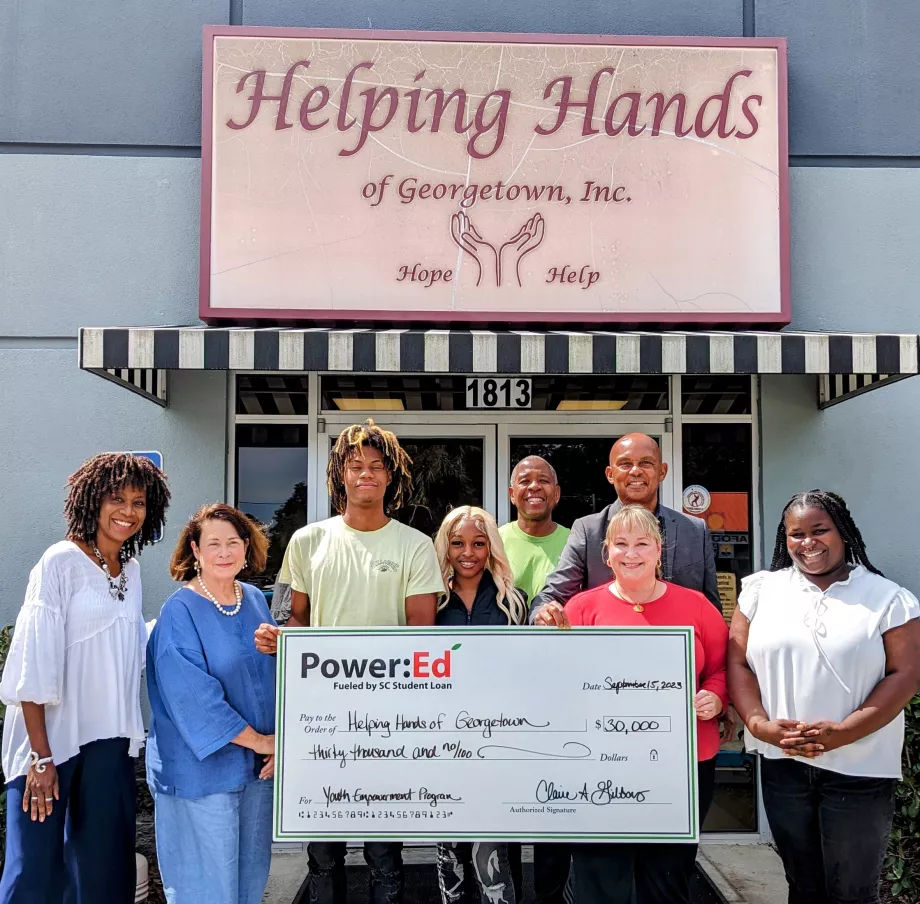 GEORGETOWN, SC — September 28, 2023 — Helping Hands of Georgetown County, has been awarded a $30,000 grant from Power:Ed, the philanthropy of SC Student Loan Corporation, to support expanding its Youth Empowerment Program, (YEP). 
Thirty percent of Georgetown County youth under the age of 18 live in households below the poverty level. Poverty provides more barriers to future success. YEP offers a proactive approach to help more than 80 high school students feel connected to the school culture and recognize the value of education in planning their futures. Students are referred from teachers, counselors and administrators based on key criteria. YEP's goals are to have students (1) graduate high school, (2) further their education or the military, or (3) be employed in a job with advancement opportunities. Career coaches develop and implement YEP's curriculum, mentor student participants throughout the program, and measure program success.
"We are pleased that Power:Ed sees the value in our Youth Empowerment Program," said Brendon Barber, executive director of Helping Hands of Georgetown. "This investment in our next generation will go a long way towards ensuring that our young people have the opportunities, tools, and resources to chart their own paths to success."
YEP encourages its students to utilize assessment tools, such as the "YouScience" Career Assessment and the Panorama Education suite of assessments to begin career conversations and explore workforce opportunities. Funding from Power:Ed will help provide resources for the exploration of career opportunities, cultural experiences, and team-building exercises.
"Helping Hands of Georgetown is making a significant impact in the lives of area youth and families, reporting a 100% graduation rate where 90% of students went on to a two- or four-year college/university and the remaining 10% enlisted in the military or entered the workforce," said Power:Ed Executive Director Claire Gibbons. "We are so excited to help Helping Hands reach more underserved students and transform their future outcomes."
In FY2023-24 Power:Ed will award $1,000,000 in grants to South Carolina education and career readiness organizations. In this first quarter, Power:Ed has awarded nine grants (including this grant to HHG) totaling $265,000. Grants are administered quarterly, and the next grant funding deadline is October 1, 2023.
[Photo enclosure caption]: Pictured L to R: Lynne Ford, HH Associate Director; Jean Rothrock, HH Board Chair; Brycen Mention, YEP junior @ Georgetown High School; Daju'honna Mitchell, YEP senior @ Georgetown High School; Claire Gibbons, Power:Ed Executive Director; Genesis Wright, YEP Career Coach; (Back Row): Ronald McInnis, YEP Program Leader; Brendon Barber, HH Executive Director.
About Helping Hands of Georgetown
Helping Hands has been a credible, dependable source of assistance to Georgetown County's most needy residents since 1989, serving more than 5,500 individuals annually with food assistance, propane, or kerosene for some in the winter, along with utility support. The organization is celebrating 10 years of providing emergency dental services through its Dental Clinic for the poor and uninsured. The Youth Empowerment Program has been in existence since 2018.
About Power:Ed
Founded in 2019, Power:Ed, a philanthropy of SC Student Loan is dedicated to creating opportunities for South Carolina's youth and adults by supporting low-income, minority, and first-generation students; improving access to college and degree completion; and creating pathways to quality workforce opportunities. Organizations serving middle school through post-college talent who are interested in applying for a grant or partnering with Power:Ed, should visit power-ed.org. 
Back to News