Hilton Head Hospital Auxiliary awarded $30,000 grant to expand its nursing scholarships
Back to News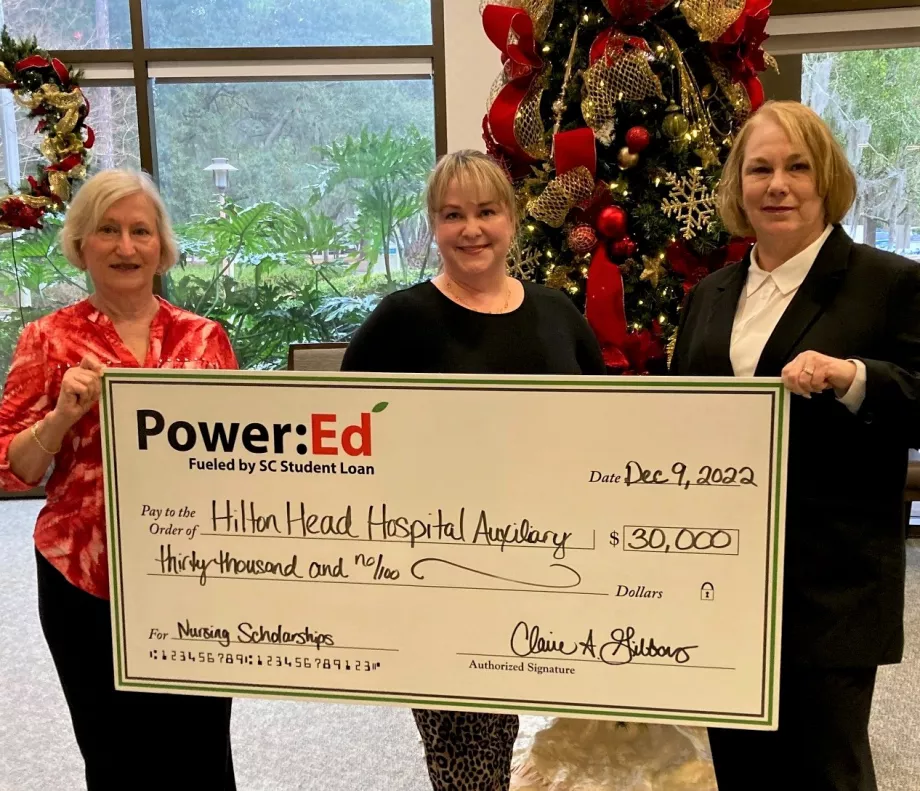 HILTON HEAD ISLAND, SC - December 15, 2022 — The Hospital Auxiliary (HHHA), a nonprofit dedicated to assisting those in need in Hilton Head, Bluffton and the surrounding areas, has been awarded a $30,000 grant from Power:Ed, a philanthropy of SC Student Loan Corporation. 
This gift marks the second round of funding from Power:Ed and will support 10 nursing scholarships at USCB and TCL for the 2023 school year to help create a local talent pipeline to address the healthcare workforce shortage.
"I would like to express my sincere gratitude that The Hospital Auxiliary was selected as one of the recipients of a Power:Ed grant. Because of your generosity, your donation has been designated for and will enable us to give scholarships to local students pursuing a degree in the field of nursing, said The Hospital Auxiliary President Vicki Gorbett. "This funding will support and help to address the growing work force nursing shortage in the local area and allow us to continue in our mission to enrich the quality of life and health and education of the residents of Hilton Head, Bluffton, and the surrounding areas."
"Power:Ed is proud to continue our support of this important workforce development program, which has such a positive impact on the community," said Power:Ed Director Claire Gibbons. "We hope these scholarships are a pathway to success in school, their chosen healthcare careers, and in life for these students."
In the first two quarters of FY2022-23, Power:Ed awarded 12 grants to South Carolina education and career readiness nonprofits, including HHHA, totaling over $450,000. Grants are administered quarterly, and the next grant funding deadline is January 1, 2023.
About Hilton Head Hospital Auxiliary
The Hospital Auxiliary provides communication and support for our nearly 200 volunteers and through our fundraising efforts, we assist people and families in our communities who are most in need. When you support the Auxiliary, you are supporting people in our community who need your help — patients at Hilton Head Hospital, Coastal Carolina Hospital, and VIM who cannot afford medication; the Breast Health Center and breast cancer support groups; future nurses who receive Auxiliary scholarships which assist them in completing their programs at USCB and the Technical College of the Lowcountry; the Children's Memorial Garden at Hilton Head Hospital and more.
 
About Power:Ed
Founded in 2019, Power:Ed, a philanthropy of SC Student Loan Corporation is dedicated to creating opportunities for South Carolina's youth and adults by supporting low-income, minority, and first-generation students; improving access to college and degree completion; and creating pathways to quality workforce opportunities. Organizations serving middle school through post-college talent who are interested in applying for a grant or partnering with Power:Ed, should visit power-ed.org. 
 
Back to News