Junior Achievement receives $25,000 grant to expand its 2023 JA Inspire Virtual program for SC middle and high school students
Back to News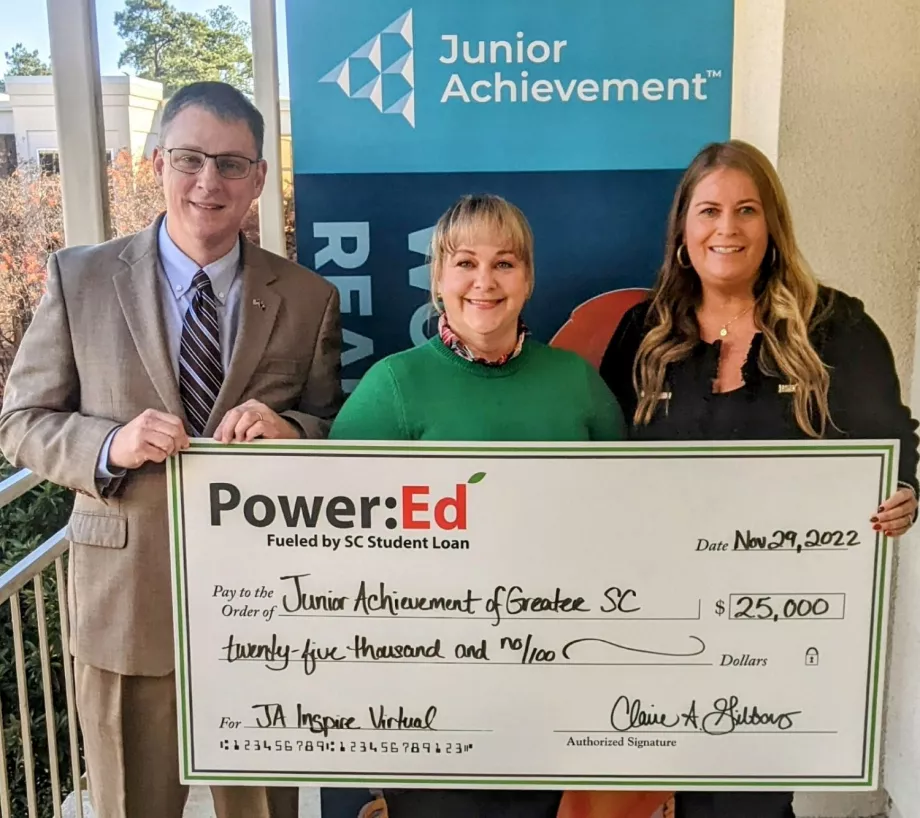 Columbia, S.C. December 13, 2022 — Junior Achievement of Greater South Carolina (JAGSC), a nonprofit dedicated to inspiring and preparing young people to succeed in a global economy, has been awarded a $25,000 grant from Power:Ed, a philanthropy of SC Student Loan Corporation. 
The funds will be used to support the growth of JA's Inspire Virtual program, offering a career development program to 1140 SC middle and high school students in spring 2023. JA Inspire Virtual is more than a career fair: It brings together the business community and local schools and is designed to help launch students into their future—high school, college, and careers beyond. 
Students will be introduced to companies throughout the state and the career options that exist at each company. This dynamic career development experience provides next generation of SC workers access to high-growth careers and employers, post-secondary education opportunities, and interactive career activities. It will be available for 90 days for students to access.
Junior Achievement of Greater SC President, Casey Pash said, "Because of Power:Ed, students from across South Carolina will be better equipped with the tools they need to enter the workforce. We are so grateful for investors like Power:Ed who believe in investing in South Carolina students to help prepare them for a brighter future."
"We are proud to support this important workforce development program," said Power:Ed Director Claire Gibbons. "We hope JA Inspire Virtual does indeed inspire these students to continue their education and training in the state and fulfill their career potential with SC companies."
In the first two quarters of FY2022-23, Power:Ed awarded 12 grants to South Carolina education and career readiness nonprofits, including Junior Achievement, totaling over $450,000. Grants are administered quarterly, and the next grant funding deadline is January 1, 2023.
About Junior Achievement of Greater South Carolina
For 54 years, Junior Achievement (JA) of Greater SC has been preparing students for the future workforce in 43 counties across South Carolina with JA learning experiences. This school year JA expects to reach over 36,000 students. JA envisions a world where young people have the skillset and mindset to build thriving communities through learning experiences focused on three critical life skills, financial literacy, entrepreneurship, and workforce readiness. JA's strategy is to recruit corporate and community volunteers who serve as mentors and role models to deliver the statistically proven JA curriculum to students in their classrooms or virtually during the school day. 
 
About Power:Ed
Founded in 2019, Power:Ed, a philanthropy of SC Student Loan, is dedicated to creating opportunities for South Carolina's youth and adults by supporting low-income, minority, and first-generation students; improving access to college and degree completion; and creating pathways to quality workforce opportunities. Organizations serving middle school through post-college talent who are interested in applying for a grant or partnering with Power:Ed, should visit www.power-ed.org. 
 
Back to News