Kids On Point receives $57,000 grant to expand its services to North Charleston
Back to News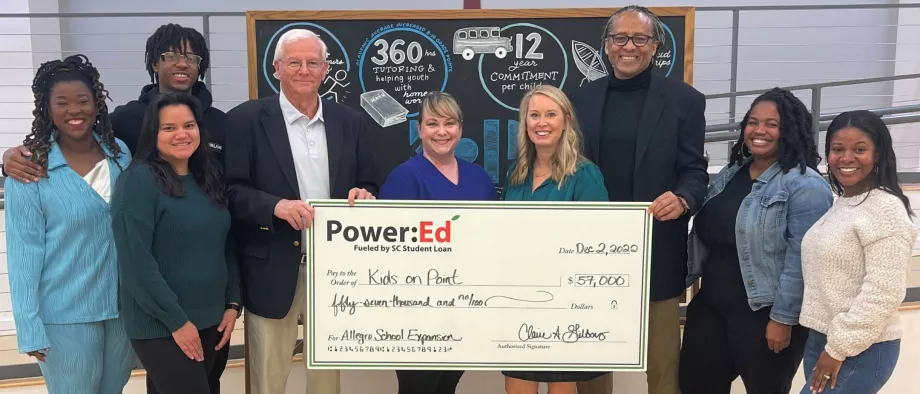 NORTH CHARLESTON, SC -- January 4, 2023 -- Kids On Point (KOP), a nonprofit that works year-round with students in under-resourced Charleston neighborhoods to foster life-and career-readiness skills, has been awarded a $57,000 grant from Power:Ed, a philanthropy of SC Student Loan Corporation. 
The funds will be used to support program expansion to Allegro Charter School of Music in North Charleston with an initial goal of serving 50 students.
"We're delighted to partner with Power:Ed, as we share a mutual commitment to providing access and opportunities to students and communities to create bright futures," said Lauren Herterich, Kids On Point Executive Director. "An investment in our work ensures that the entire community is lifted and we appreciate collaboration with partners and groups to achieve success together."
"Kids On Point has made a difference in the success of so many students and their families. We are excited to see what they will do and the potentially transformative impact they will have on the lives and career opportunities of the students in North Charleston," said Power:Ed Director Claire Gibbons.
In the first two quarters of FY2022-23, Power:Ed awarded 12 grants to South Carolina education and career readiness nonprofits, including Kids On Point, totaling over $450,000. Grants are administered quarterly, and the next grant funding deadline is April 1, 2023.
About Kids On Point
For 13 years, Kids On Point has offered free year-round support for underserved youth in the Charleston community. As a small non-profit working to tackle systemic issues (educational inequality and poverty) in Charleston, SC, Kids On Point operates intentionally based on data driven outcomes to avoid the 'mission creep' that can dilute the effectiveness of many nonprofits. Year-round, programming is focused on alleviating the resource disparity that low-income and underserved students experience by providing afterschool and summer programming. With an intentional approach, Kids On Point provides access an opportunity to students to create a world where all kids can thrive. 
 
About Power:Ed
Founded in 2019, Power:Ed, a philanthropy of SC Student Loan is dedicated to creating opportunities for South Carolina's youth and adults by supporting low-income, minority, and first-generation students; improving access to college and degree completion; and creating pathways to quality workforce opportunities. Organizations serving middle school through post-college talent who are interested in applying for a grant or partnering with Power:Ed, should visit power-ed.org. 
 
Back to News