Palmetto Place Children & Youth Services receives a $50,000 grant from Power:Ed to support at-risk youth
Back to News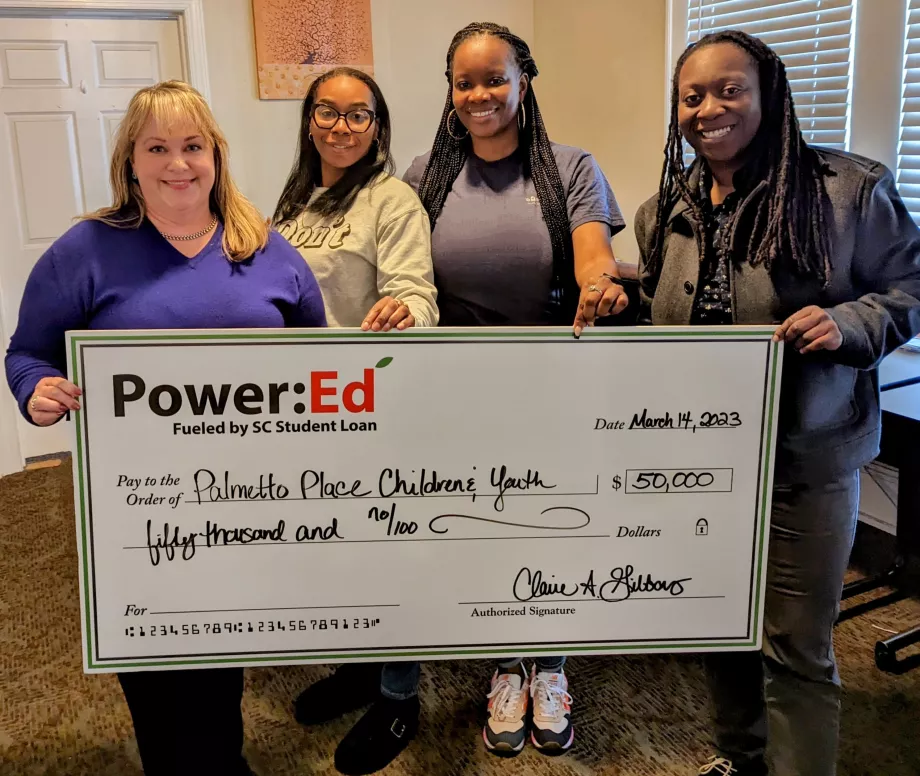 COLUMBIA, S.C. - March 29, 2023 — Local nonprofit, Palmetto Place Children & Youth Services (Palmetto Place), has been awarded $50,000 from Power:Ed, a philanthropy of SC Student Loan Corporation, to ensure 60 unhoused Midlands high school students have the resources necessary to succeed in continuing their education or starting careers. The grant supports job readiness training, resume-building skills, connections to mentors, SAT/ACT prep, interview skills, work attire, technological support, transportation, and college supplies.
"Power:Ed is proud to support Palmetto Place and its work to give underserved and unhoused youth a strong foundation and a fresh start. All South Carolina children should have the opportunity to succeed regardless of their circumstances, and we want to do our part to help reduce economic barriers and boost education equity," said Power:Ed Director Claire Gibbons. 
Palmetto Place is currently home to approximately 30 young people. Palmetto Place has provided wraparound case management for over forty years, promoting healing and well-being. Services include medical care, mental health, employment readiness, groups focusing on self-esteem and coping skills, independent living skills, recreational activities, resource navigation, and more. In 2022, Palmetto Place served 151 unduplicated youth through our residential and community programs. 
"Palmetto Place supports our youth in their development into independence by preparing them for the workforce and educational advancement. Our services expand beyond housing our youth; we provide them with the wraparound services needed to progress toward their goals. With the support of partners like Power:Ed, Palmetto Place can continue to eliminate barriers our youth face and provide them with hope," said PPCYS Executive Director Shawn Caraballo.
In FY2022-23, Power:Ed is investing $900,000 in South Carolina education and career-readiness organizations, and so far this year, 17 nonprofits have been funded. Grants are administered quarterly, and the next grant application deadline is April 1, 2023.
About Palmetto Place Children & Youth Services
Founded in 1977 by the Junior Woman's Club of Columbia, Palmetto Place provides emergency shelter and transitional housing for children and teens who have faced abuse, abandonment, neglect, and homelessness. They offer a broad range of services concentrating on personal healing and development. At Palmetto Place, youth find more than shelter and food; they find a home and support system. To learn more about Palmetto Place and support their mission, visit www.palmettoplace.org
About Power:Ed
Founded in 2019, Power:Ed, a philanthropy of SC Student Loan is dedicated to creating opportunities for South Carolina's youth and adults by supporting low-income, minority, and first-generation students; improving access to college and degree completion; and creating pathways to quality workforce opportunities. Organizations serving middle school through post-college talent who are interested in applying for a grant or partnering with Power:Ed, should visit power-ed.org. 
 
Back to News