Power:Ed awards $35,000 in scholarship support to SC State
Back to News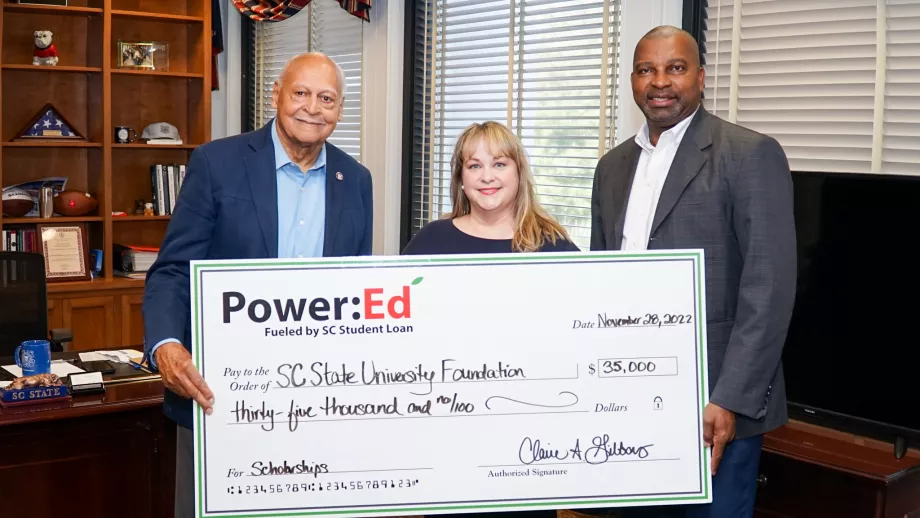 ORANGEBURG, S.C., December 6, 2022 – The South Carolina State University Foundation has been awarded a $35,000 grant from Power:Ed to provide Graduate Assistance Program scholarships to deserving students.
"Power:Ed, a philanthropy of South Carolina Student Loan Corp., is proud to support SC State University and its vital work to educate and prepare the next generation of Black leaders in South Carolina," Power:Ed Director Claire Gibbons said. "GAP scholarships can make all the difference in helping students to complete their education and succeed in school, their careers, and in life."
The scholarships will be awarded to qualifying SC State juniors who are in jeopardy of not being able to return for the Spring 2023 semester because of finances. The funding will help improve SC State's retention and graduation rates, while also enhancing students' opportunities to enter the workforce.
"For many of our students, finances are the principal hurdle that prevents them from graduating and realizing their dreams of success in their chosen fields," SC State President Alexander Conyers said. "GAP funding can make all the difference in the world, especially for first-generation college students whose families have limited means.
"SC State's mission is to make quality higher education accessible to all families in South Carolina, and Power:Ed's support will help us fulfill that purpose," Conyers said.
Willie Jeffries, SC State's head football coach emeritus, sits on the SC Student Loan Corp.'s Board of Directors.
"Being a board member of the South Carolina Student Loan organization, we have a philanthropy called Power:Ed wherein we identify first-generation students in all areas of the state we can fund," Jeffries said. "I am very happy as an alumnus that South Carolina State was selected."
As a former first-generation college student. Jeffries can identify with current students and the benefits of clearing that milestone for the generations of students who follow.
"When we look over the demographics of the state of South Carolina, we have a lot of students here at SC State and a lot of other universities who are first-generation," Jeffries said. "We have to get the first generation through before those who follow can do well, and that's awfully important for South Carolina."
In the first two quarters of FY 2022-23, Power:Ed awarded 12 grants to South Carolina education and career readiness nonprofit organizations, including the SC State University Foundation, totaling over $450,000. Grants are administered quarterly.
The next grant funding deadline is January 1, 2023.
About Power:Ed
Founded by SC Student Loan Corp. in 2019, Power:Ed is dedicated to creating opportunities for South Carolina's youth and adults by supporting low-income, minority, and first-generation students; improving access to college and degree completion; and creating pathways to quality workforce opportunities. Organizations serving middle school through post-college talent who are interested in applying for a grant or partnering with Power:Ed, should visit www.power-ed.org.
About South Carolina State University
Founded in 1896 as a land grant institution with a mission of providing service to the citizens of the state, South Carolina State University has evolved from a small teachers' college into a major University center of learning and research. Located in Orangeburg, S.C., South Carolina State offers more than 50 different fields of study on the undergraduate and graduate levels. South Carolina State University is accredited by the Southern Association of Colleges and Schools and is a member of the Council of Graduate Schools.
Back to News