Power:Ed Awards Spartanburg Community College Funds to Aid in Launch of Success Coaching Program
Back to News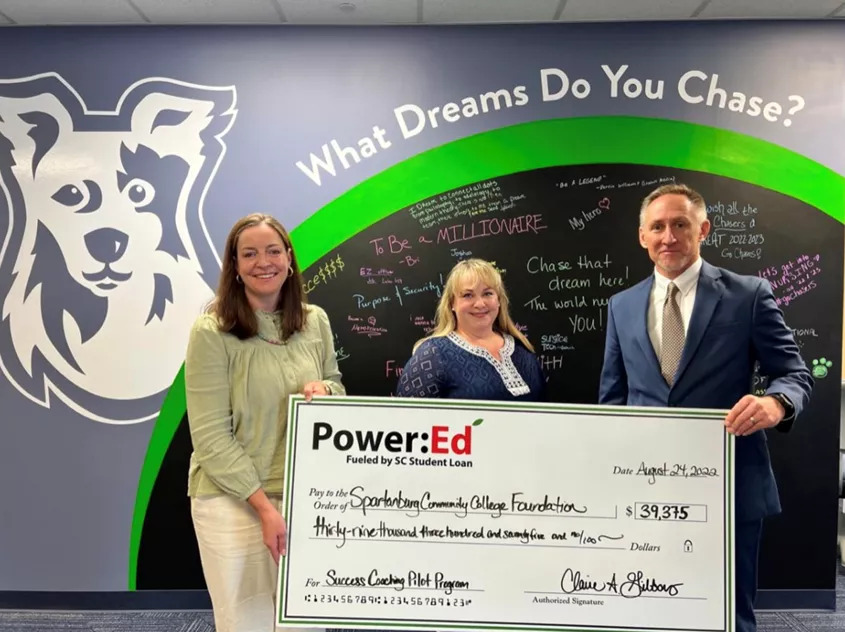 Spartanburg, SC - Today, Power:Ed, an organization dedicated to making transformative impacts on the lives and career opportunities for South Carolina's students, presented the Spartanburg Community College Foundation with an award in the amount of $39,375 to support the establishment of a success coach for students pursuing their Pre-Health Associate Degree.  
"We are thrilled to be able to add success coaches as a part of our support framework at SCC," said Witney Fisher, Dean of Student Success at SCC. "These dedicated individuals will work directly with our students to better understand their immediate needs and challenges and seamlessly connect them to resources to aid in their academic success. Having a support network is critical for students and SCC believes this program will make an impact on our ability to retain students at SCC." 
 
"Partnerships are critical to the mission of the SCC Foundation," said John Jaraczewski, Executive Director of the SCC Foundation. "Together with Power:Ed, we are pleased to be working towards sustaining high-levels of student success at SCC."
"Power:Ed is dedicated to funding programs supporting South Carolina's underserved and first-generation students, improving access to college and degree completion, and helping create a pipeline of skilled talent for SC employers," said Claire Gibbons, Director of Power:Ed. "We are excited by the potential this pilot program offers to help at-risk students complete their education and improve their economic opportunities."
The project will pilot Success Coaching at SCC and focus on the Pre-Health Program due to its large student population and the demanding course load. Success Coaching is a nationally proven best practice strategy to increase higher education retention and completion rates.
 
Success Coaches proactively reach out to students, meet with students one-on-one to assess their barriers to program completion, and connect students with services that help them to overcome their unique barriers such as tutoring, financial aid, academic advising, emergency funds, food pantries, and other institutional and community services.
In the first quarter of FY2022-23, Power:Ed has awarded six grants (including this grant to the Spartanburg Community College Foundation) to SC education and career readiness nonprofits totaling nearly $219,000. Grants are administered quarterly and the deadline for the next round of grant funding is October 1, 2022. SC organizations serving middle school through post-college talent who are interested in applying for a grant or partnering with Power:Ed, should visit power-ed.org. 
About Spartanburg Community College
SCC offers more than 70 academic program offerings including associate degrees, diplomas and certificates, plus University Transfer opportunities to four-year colleges and universities. SCC provides flexible class scheduling including day, evening, weekend classes with multiple start dates and more than 100 online classes through SCCOnline. Offering the lowest tuition in the region, convenient locations, and regional/national accreditations, SCC offers educational opportunities leading to high-growth, high-demand jobs. The SCC Corporate & Community Education Division provides job and career enhancement, workforce development and personal enrichment courses and training programs. For more information, visit www.sccsc.edu.
About Power:Ed
Founded in 2019, Power:Ed, a philanthropy of SC Student Loan Corporation, is dedicated to creating opportunities for South Carolina's youth and adults by supporting low-income, minority, and first-generation students; improving access to college and degree completion; and creating pathways to quality workforce opportunities.
Back to News