SC Nurse Retention Initiative awarded $36,000 grant to retain vital nursing talent in the Lowcountry
Back to News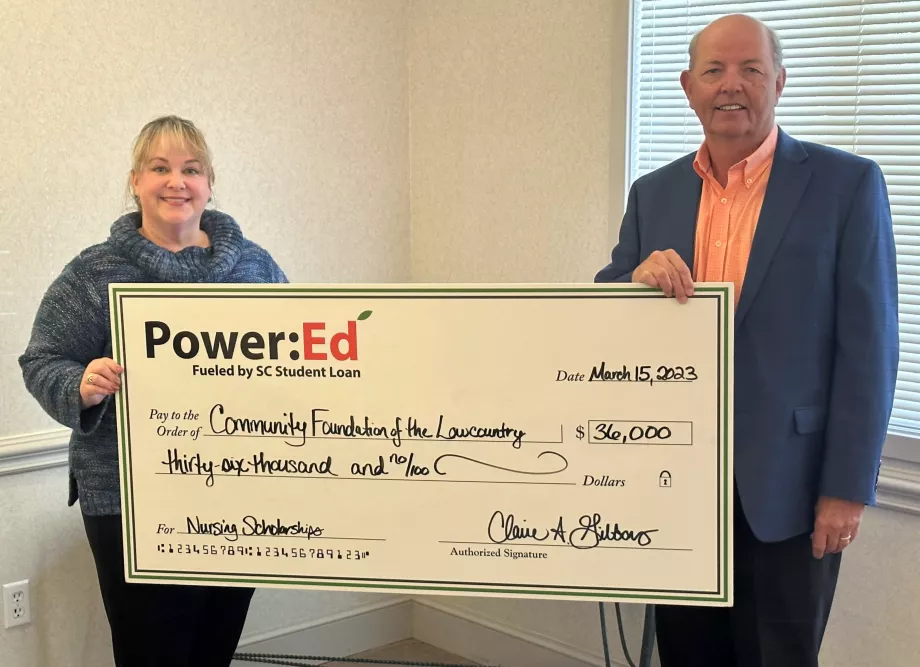 HILTON HEAD ISLAND, SC — April 4, 2023 — The SC Nurse Retention Initiative (SCRI), an effort dedicated to attracting and retaining top nursing talent in Beaufort and Jasper Counties, has been awarded a $36,000 grant from Power:Ed, a philanthropy of SC Student Loan Corporation. 
The SCRI fund, administered by Community Foundation of the Lowcountry, awards recent Bachelor of Science in Nursing (BSN) and Associate Degree in Nursing (ADN) graduates up to $12,000 (BSN) and $6,000 (ADN) over two years based on merit, dedication to the nursing profession, financial need, educational mobility and long-term commitment to practice nursing in the Lowcountry. 
This gift marks the second round of funding from Power:Ed to SCNRI and will support three to six nursing scholarships. Because the recipients can use the funds for any purpose, including furthering their education or contributing to housing costs, this program supports both the community priorities of workforce development and affordable housing solutions.
"With this grant from Power-Ed, SCNRI will continue to build our local nurse workforce to improve the quality of health care for individuals throughout  Beaufort and Jasper Counties, said Bob Elliott from SCNRI. "The financial support we provide will allow our nurses to remain in Beaufort and Jasper Counties to practice, prosper and grow their careers within our local communities. I commend the organization for their commitment to workforce development and to retaining nurses in the Lowcountry."
In FY2022-23, Power:Ed is investing $900,000 in South Carolina education and career-readiness organizations, and so far this year, 17 nonprofits have been funded. Grants are administered quarterly, and the next grant application deadline is April 1, 2023.
"Nurses directly impact nearly every facet of our healthcare system and are vital to a community's well-being," said Power:Ed Director Claire Gibbons. "We want to ensure local talent has the resources necessary to pursue their education and build their careers in the Lowcountry. Power:Ed is proud to continue our support of this important workforce development program, which has such a positive impact on the community," 
About Community Foundation of the Lowcountry
Since 1994, Community Foundation of the Lowcountry has been connecting people, organizations and resources, and has helped build stronger communities in the Lowcountry by assisting donors in making a difference through charitable giving. With over 450 charitable funds, Community Foundation of the Lowcountry is the largest source of unrestricted philanthropic resources dedicated to Beaufort, Colleton, Hampton and Jasper Counties. For more information, visit cf-lowcountry.org or call 843-681-9100. 
About Power:Ed
Founded in 2019, Power:Ed, a philanthropy of SC Student Loan Corporation is dedicated to creating opportunities for South Carolina's youth and adults by supporting low-income, minority, and first-generation students; improving access to college and degree completion; and creating pathways to quality workforce opportunities. Organizations serving middle school through post-college talent who are interested in applying for a grant or partnering with Power:Ed, should visit power-ed.org.
 
Back to News