SC Technical College System Foundation receives $40,000 grant to expand its tech workforce development program to address the demand for skilled coders
Back to News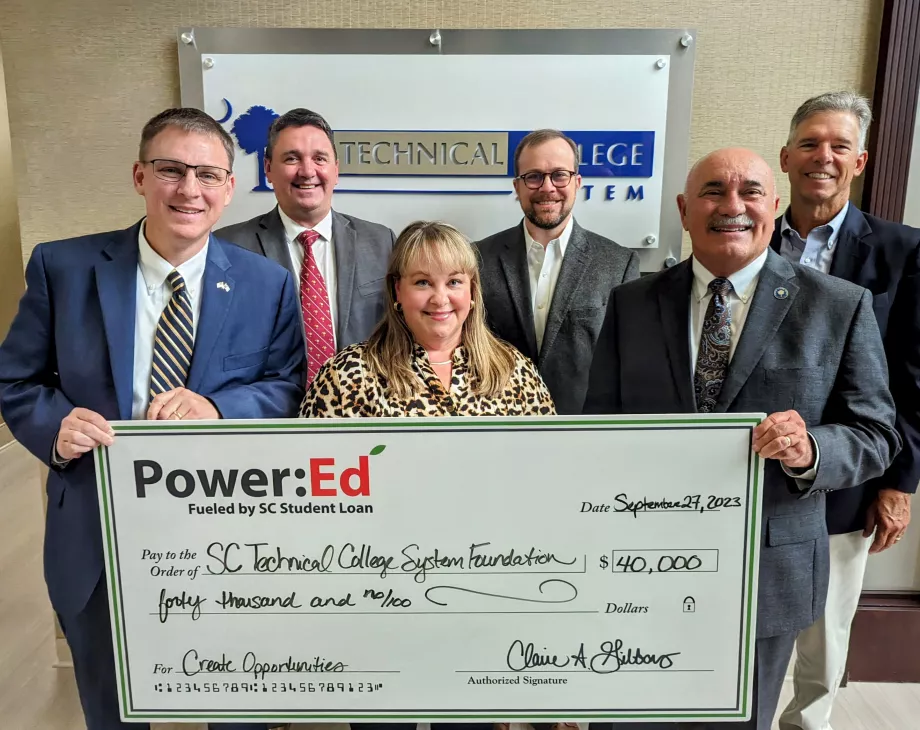 COLUMBIA, SC – October 3, 2023 — The South Carolina Technical College System Foundation (SCTCS Foundation) has been awarded a $40,000 grant from Power:Ed, the philanthropy of SC Student Loan Corporation, to expand Create Opportunity, a tech workforce development initiative that increases the supply of high-demand software engineers through a screening, training and apprenticeship model designed for individuals from diverse backgrounds.
Tim Hardee, SC Technical College System President, acknowledges "the Power:Ed grant will provide on-going support for the expansion of this vital workforce development program. Job expansion in SC is being driven by high-tech careers and one high demand area is computer programming. In the age of artificial intelligence and technology, producing more computer programmers is good for business recruitment and retention as well as our state's long-term economic development."
Power:Ed funding will support participant recruitment, program development, and continuing to provide the program at no cost to participants. 
 
Ben Rex, Chair of the SC Technical College System Foundation, added: "I am thrilled by Power:Ed's support of Create Opportunity. Power:Ed's investment in this program will allow us to support more participants and build a bigger, stronger, and more diverse workforce for South Carolina's employers. 
"Tech jobs are the fastest growing occupations in our state, and SC Student Loan and its philanthropy, Power:Ed, are proud to support this important workforce development initiative to make tech education and career readiness more accessible for all South Carolinians," said Power:Ed Executive Director Claire Gibbons.
In FY2023-24 Power:Ed will award $1,000,000 in grants to South Carolina education and career readiness organizations. In this first quarter, Power:Ed has awarded nine grants (including this grant to SCTCSF) totaling $265,000. Grants are administered quarterly, and the next grant funding deadline is January 1, 2024.
About SC Technical College System Foundation
The South Carolina Technical College System Foundation supports the South Carolina Technical College System's efforts to provide high-quality, relevant, and effective programs to promote economic and workforce development through its 16 campuses statewide.
About Power:Ed
Founded in 2019, Power:Ed, a philanthropy of SC Student Loan is dedicated to creating opportunities for South Carolina's youth and adults by supporting low-income, minority, and first-generation students; improving access to college and degree completion; and creating pathways to quality workforce opportunities. Organizations serving middle school through post-college talent who are interested in applying for a grant or partnering with Power:Ed, should visit power-ed.org. 
Back to News