Back to News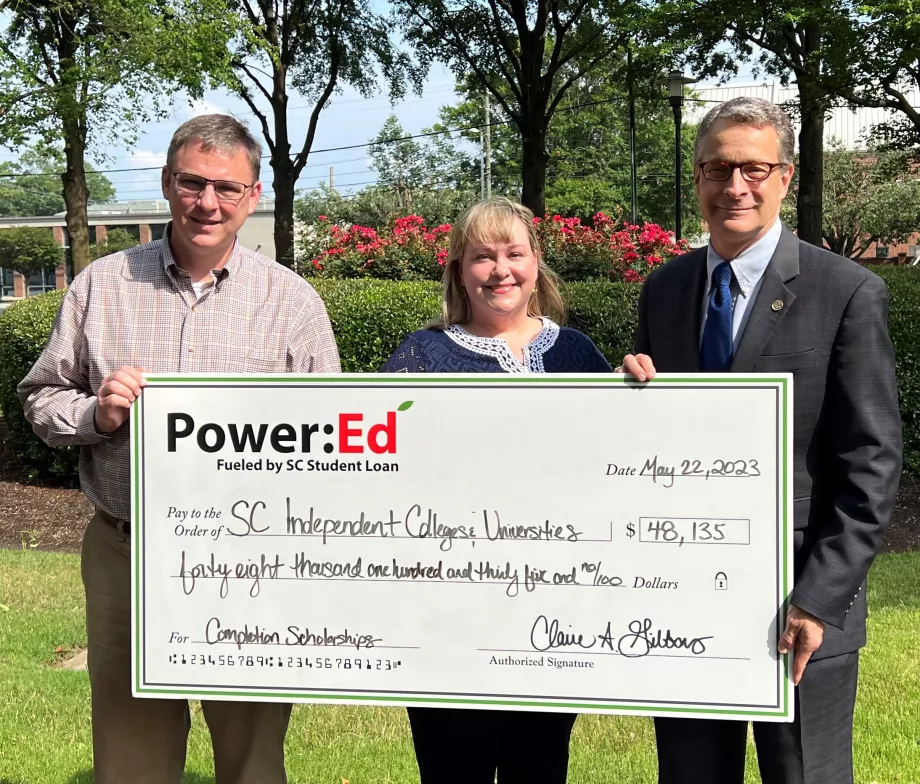 COLUMBIA, S.C. – May 23, 2023 – S.C. Independent Colleges and Universities (SCICU) is pleased to announce the receipt of a Power:Ed award that will provide completion grants for students at financial risk for dropping out of college.
In 2019, SCICU was Power:Ed's inaugural grant recipient, and this marks the fourth year Power:Ed has funded completion grants supporting SCICU's member institutions.  This year a total of $48,135 in Power:Ed completion grants will be shared with financial aid directors at SCICU's 21 member colleges and universities to help students persist through unforeseen financial difficulties and complete their degrees.
"We at SCICU are extremely grateful for our long-standing relationship with the S.C. Student Loan Corporation," said Jeff Perez, SCICU president and CEO. "S.C. Student Loan has expanded its decades-long support of SCICU member institutions with Power:Ed grants that help students focus on their studies rather than financial concerns."
During the third award year, Power:Ed completion grants were awarded to 24 students at SCICU's 21 member colleges and universities, with a $2,187 average award.
"Completion scholarships can make all the difference in helping students finish their education and succeed in school, their careers, and in life. We are pleased to be able to sustain this grant to SCICU and its member schools for a fourth year," said Power:Ed Director Claire Gibbons.
In its fiscal year 2022-23, Power:Ed awarded 23 grants totaling $900,000 to South Carolina education and career readiness organizations, including SCICU. Grants are administered quarterly, and the next grant funding deadline is July 1, 2023.
About Power:Ed
Founded in 2019, Power:Ed, a philanthropy of S.C. Student Loan Corporation, is dedicated to creating opportunities for South Carolina's youth and adults by supporting low-income, minority, and first-generation students; improving access to college and degree completion; and creating pathways to quality workforce opportunities. Organizations serving middle school through post-college talent who are interested in applying for a grant or partnering with Power:Ed should visit power-ed.org.
About SCICU
SCICU supports and promotes the values of independent higher education in South Carolina through collaboration, governmental advocacy, fundraising, and public engagement so that every student may choose, afford, and earn an independent college education that fits their personal values, professional and social aspirations, and approach to learning.  SCICU's 21 member colleges and universities educate and inspire more than 36,000 students throughout South Carolina.  Learn more at scicu.org.
Back to News