Back to News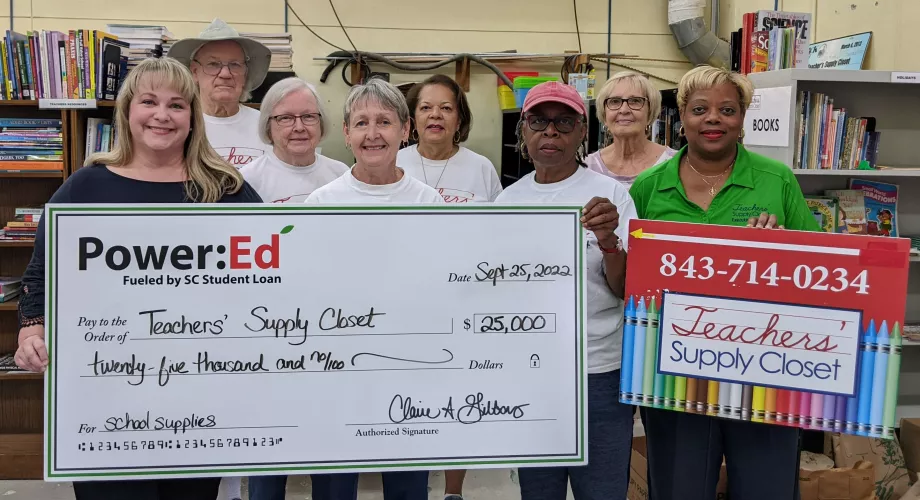 North Charleston, S.C. — Teachers' Supply Closet (TSC) has received a $25,000 grant from Power:Ed, a philanthropy of SC Student Loan, to provide free school supplies to teachers working in 58 Title I schools in the three-county Charleston region for the 2022-23 school year. 
"Power:Ed is proud to continue our support of Teachers' Supply Closet. All South Carolina children should have the opportunity to succeed regardless of their financial circumstances, and we want to do our part to help reduce barriers to education equity," said Power:Ed Director Claire Gibbons.
Equitable education is critical to helping to bridge some of the gaps that poverty and other disadvantages create. Supply shortages are always an issue in high-poverty schools and school supplies, even on sale, can be a burden, costing between $120-$150 per child. Often, it is teachers who end up paying out of pocket (up to $1,000) to provide children with needed supplies. 
Teachers' Supply Closet helps to ensure that teachers, working on a modest salary, do not need to provide supplies at their own expense so that their students are prepared to learn. When teachers pick up supplies, enough for each child in their classroom, they not only are receiving the necessary tools for their classroom but also a boost from knowing that volunteers, donors, and the greater community is supporting and valuing their efforts.
"Our partnership with Power:Ed will help under-resourced students in the tri-county area begin this new school year feeling empowered and excited to learn, " said Lynette V. Duggins, TSC Executive Director.
In the first quarter of FY2022-23, Power:Ed awarded six grants to South Carolina education and career readiness nonprofits, including TSC, totaling nearly $219,000. Grants are administered quarterly and the deadline for the next round of grant funding is January 1, 2023.
About Teachers' Supply Closet
Founded in 2007, Teachers' Supply Closet (TSC) is a nonprofit organization providing "free" school supplies to teachers in the tri-county area who work at schools where 69% and above of the students are on the free or reduced meals program.  We have provided over 276,000 students with the tools they need, and we have helped over 11,000 teachers distribute more than $7.7 million in supplies.
About Power:Ed
Founded in 2019, Power:Ed, a philanthropy of SC Student Loan Corporation is dedicated to creating opportunities for South Carolina's youth and adults by supporting low-income, minority, and first-generation students; improving access to college and degree completion; and creating pathways to quality workforce opportunities. Organizations serving middle school through post-college talent who are interested in applying for a grant or partnering with Power:Ed, should visit power-ed.org. 
Back to News