Tri-County STEMersion receives $25,000 grant from Power:Ed
Back to News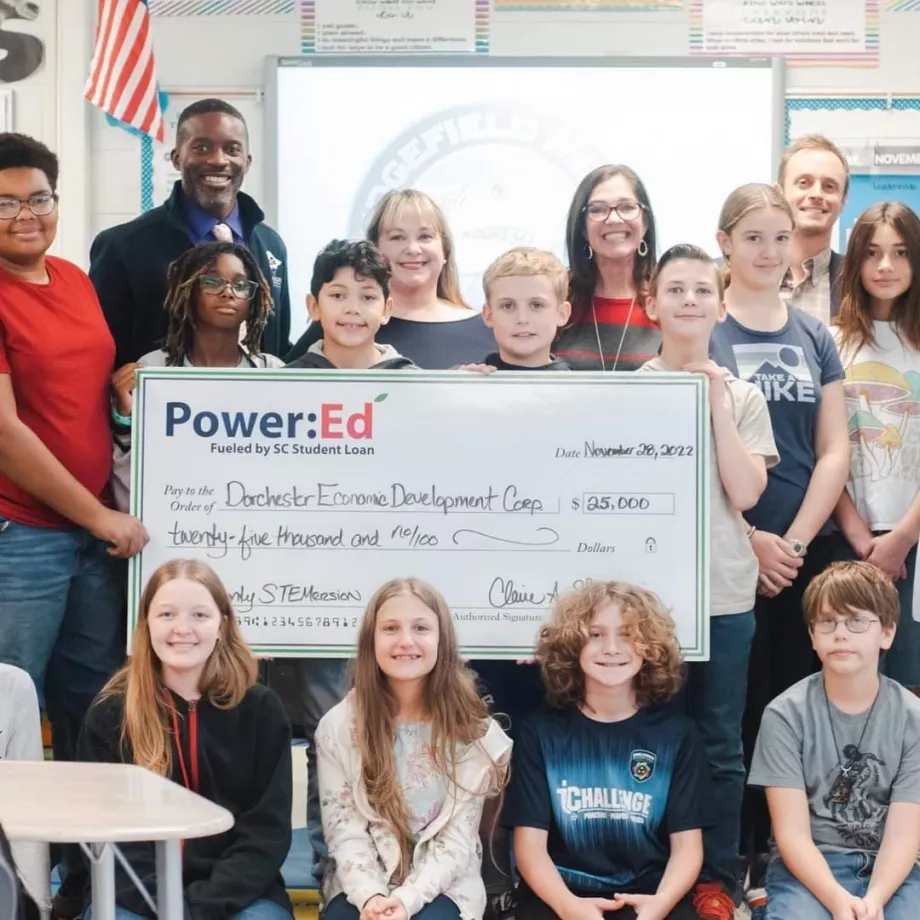 SUMMERVILLE, S.C. November 28, 2022 – Dorchester County Economic Development has been awarded a $25,000 grant on behalf of Tri-County STEMersion, a nonprofit created to link existing industry needs with local educators to implement high-demand STEM skills directly into classrooms. The funds were provided by Power:Ed, a philanthrophy of SC Student Loan, an organization committed to helping students and education in South Carolina.
Following the conclusion of the 2022 summer institute, the STEMersion planning committee announced the expansion of the program to include a new STEM Workforce Student Summer Camp. The extension will reach students in Berkeley, Charleston, and Dorchester counties.
Michelle McDonald, Dorchester County Economic Development Deputy Director, states "with the creation of the STEM Workforce Student Summer Camp, Tri-County STEMersion will now directly provide our future workforce with the STEM skills used in today's industries. Understanding the application of the skills they are learning through the hands-on activities and site visits offered will transform students into an active participant of their learning process. The earlier we can engage students in STEM the more competitive they will be for the careers of tomorrow."
"STEM jobs are the fastest-growing occupations in the Charleston region and in our state. Power:Ed is proud to support Tri-County STEMersion and its vital work to align STEM curricula in schools with the real world needs of area employers," said Power:Ed Director Claire Gibbons. "We are particularly excited about the launch of the first STEM camp and the potentially transformative impact it may have for area youth."
In the first two quarters of FY2022-23, Power:Ed awarded 12 grants to South Carolina education and career readiness nonprofits, including Tri-County STEMersion, totaling over $450,000. Grants are administered quarterly, and the next grant funding deadline is January 1, 2023.
The 2023 STEMersion summer institute and student camp will occur in July with applications being accepted beginning in the spring of 2023.
About Tri-County STEMersion:
Tri-County STEMersion is a collaborative effort by Berkeley, Charleston, and Dorchester counties alongside the SC Department of Commerce, to bridge education with existing industry needs by developing coursework and skills to implement into classrooms, creating a pipeline directly into the local workforce. The unique hands-on institute is a two-week summer program offered to area educators and counselors which introduces real-world workplace demands through on-site visits and activities designed to reinforce necessary math, science, and soft skills needed to succeed in different industry professions. For more information on the 2023 STEMersion institute visit tricountystemersion.com.
About Power:Ed:
Founded in 2019, Power:Ed, a philanthropy of SC Student Loan Corporation is dedicated to creating opportunities for South Carolina's youth and adults by supporting low-income, minority, and first-generation students; improving access to college and degree completion; and creating pathways to quality workforce opportunities. Organizations serving middle school through post-college talent who are interested in applying for a grant or partnering with Power:Ed, should visit power-ed.org.
Back to News