Back to News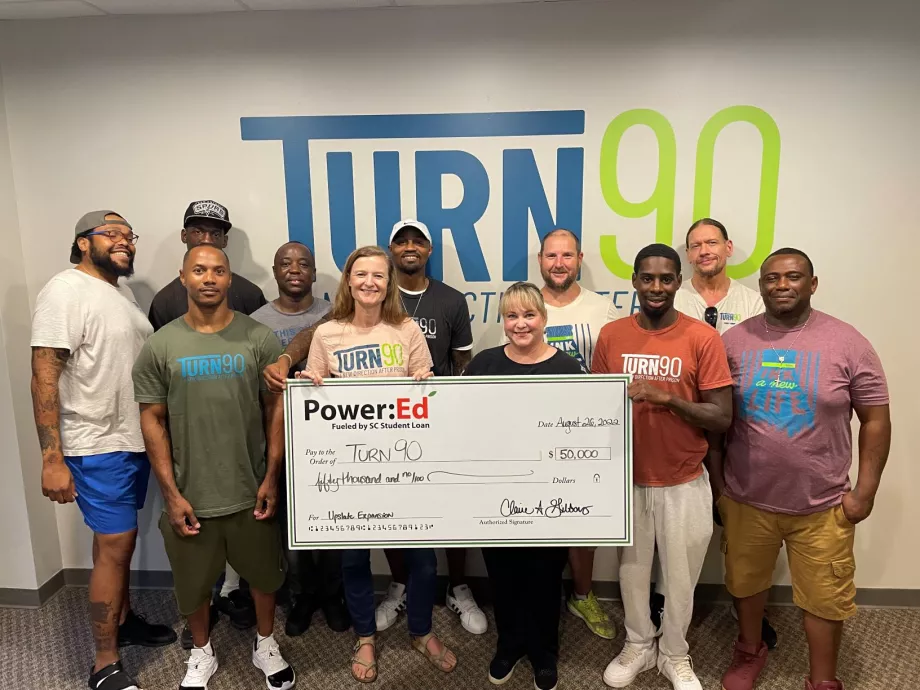 Columbia, S.C. — Turn90, a nonprofit operating in Charleston and Columbia that equips men to succeed after prison by providing a route to a career-path job, is a first-time recipient of a $50,000 grant from Power:Ed, a philanthropy of SC Student Loan Corporation. 
The funds will be used to support hiring of two new staff members to lead expansion of program services into the Upstate in 2023. There is a demonstrative need for prison reentry education and workforce development solutions. In South Carolina, Greenville County receives the most individuals returning home from state prison at 10.4% and Spartanburg County is second highest at 9.4%.
People leaving prison face complex reentry challenges that make it extremely difficult for them to stay out. From low levels of education and unfamiliarity with technology to a lack of social-emotional skills to
manage difficult life situations, their needs are great. With a focus on developing critical social, emotional, and workforce development skills needed to succeed in a professional environment, Turn90 creates an opportunity for success after prison. Its program combines cognitive behavioral classes with transitional work, supportive services, and job placement.
"Power:Ed's mission is to create opportunities and change lives by supporting successful programs that reduce barriers to education and career readiness for South Carolinians. Turn90 is achieving just that, and we are proud to support their growth plans and provide that last funding needed for statewide expansion," said Claire Gibbons, Director of Power:Ed.
Across the country, 62% of people returning home from prison are rearrested within three years; only 22% of Turn90 graduates have been rearrested, and only one of over 100 graduates has ever been re-incarcerated. Turn90 aims to become the first nationally recognized, evidence-based prison reentry program.
"This partnership with Power:Ed is a huge step forward, not only for Turn90, but for all of South Carolina," said Amy Barch Turn 90 Founder and Executive Director. "When people are released from prison with a pathway to livable wage employment, benefits, and opportunities for growth, they are less likely to return to criminal behavior. Power:Ed's investment in Turn90 strengthens our workforce, our community, and our state." 
In the first quarter of FY2022-23, Power:Ed has awarded six grants to South Carolina education and workforce development nonprofits, including Turn90, totaling nearly $219,000. Grants are administered quarterly and the deadline for the next round of grant funding is October 1, 2022.
About Turn90
Turn90 is a non-profit organization in Charleston and Columbia, South Carolina that equips men with the skills and opportunities to succeed after prison. Through the development of critical social, emotional, and workforce development skills and access to living wage employment, the program creates a path to success after prison where one doesn't currently exist.
About Power:Ed
Founded in 2019, Power:Ed, a philanthropy of SC Student Loan is dedicated to creating opportunities for South Carolina's youth and adults by supporting low-income, minority, and first-generation students; improving access to college and degree completion; and creating pathways to quality workforce opportunities. Organizations serving middle school through post-college talent who are interested in applying for a grant or partnering with Power:Ed, should visit power-ed.org. 
 
Back to News