USC Upstate Receives $50K from Power:Ed to support student biomedical research
Back to News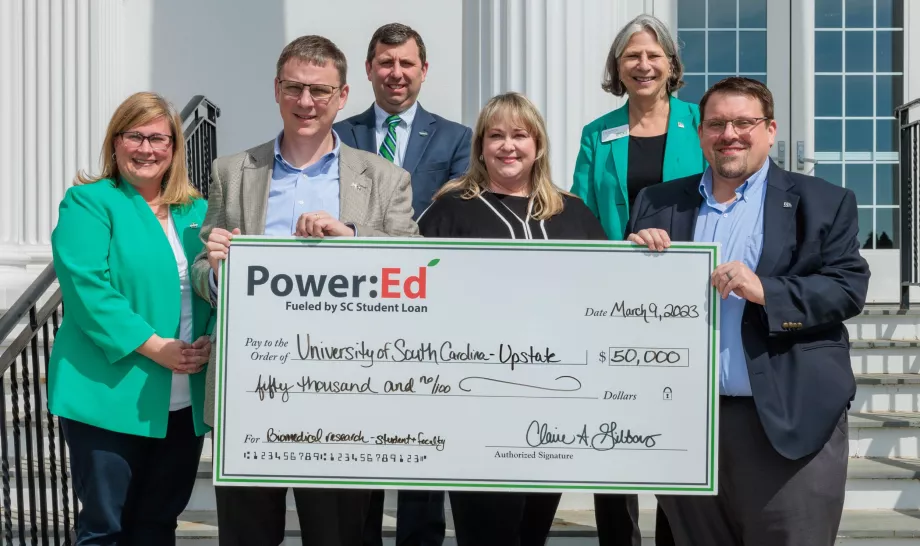 Spartanburg, S.C. – April 26, 2023 – University of South Carolina Upstate has received a $50,000 award from Power:Ed to prepare state students for careers in the life sciences. Funds will support the summer research program ER(Up)T, short for Engaged Research and Training at Upstate. 
ER(Up)T provides USC Upstate students an opportunity to engage in faculty-mentored research in the biomedical sciences, to be paid $3,800 for their full-time eight-week summer research internship, to participate in career development workshops, and to present their research at local and regional conferences.
"Power:Ed is proud to support USC Upstate's vital biomedical education and workforce development programs to inspire the next generation of biomedical scientists in South Carolina," said Claire Gibbons, director of Power:Ed, a philanthropy of SC Student Loan. "The goal of this summer research is to improve degree completion and create STEM career pathways that offer social mobility and quality employment opportunities for USC Upstate students."
ER(Up)T program director Josh Ruppel, Ph.D., who serves director of research and a professor of chemistry at USC Upstate, said the Power:Ed funding will create additional paid research experiences for students.
"We are absolutely thrilled to receive this funding from Power:Ed," Ruppel said. "It almost seems like the opportunity afforded by this organization was a perfect match for our program, as both are focused on supporting student success and developing South Carolina's workforce. ER(Up)T students will not only benefit from the experience academically, but they will also take away valuable skills and tools to help build their future careers.
Power:Ed is investing $900,000 this year in education and career readiness organizations across the state, with 17 organizations funded so far this fiscal year.
Power:Ed grants are administered quarterly. The next grant application deadline is July 1. South Carolina organizations serving middle school through post-college talent are interested in applying for a grant or partnering with Power:Ed are encouraged to visit https://www.power-ed.org/.  
About Power:Ed
Founded in 2019 by SC Student Loan Corporation, Power:Ed is dedicated to creating transformative opportunities for South Carolina youths and adults by supporting low-income, minority, and first-generation students; improving access to college and degree completion; and creating pathways to quality workforce opportunities.
About USC Upstate
The University of South Carolina Upstate is a regional comprehensive university offering more than 50 undergraduate and graduate programs in the liberal arts and sciences, business administration, nursing, and education. Located along the I-85 corridor in Spartanburg between Greenville and Charlotte, USC Upstate is ranked by U.S. News and World Report as the South's best college for veterans and South Carolina's No. 1 public regional college. It serves as a significant talent producer for the state, with 5,000 students, approximately 1,300 new graduates a year, and nearly 30,000 alumni, many of whom live and work in the state. The USC Upstate Spartans compete in 15 NCAA Division 1 sports as a member of the Big South Conference. For more information, visit www.uscupstate.edu.
 
Back to News