YWCA Greater Charleston receives more than $42,000 in grant funds from Power:Ed to scale its Y Girls Code program
Back to News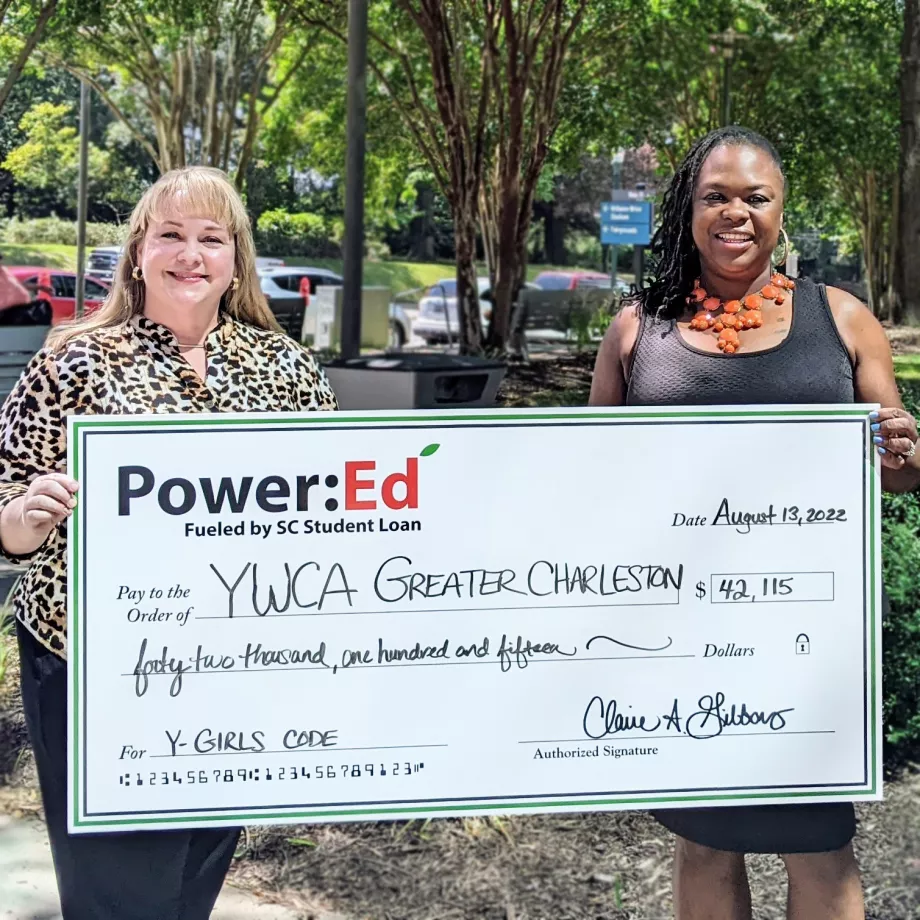 Columbia, S.C. — YWCA Greater Charleston, a nonprofit dedicated to eliminating racism and empowering women and girls, is a first-time recipient of a $42,115 grant from Power:Ed, a philanthropy of SC Student Loan. 
The funds will be used to support the growth of YWCA Greater Charleston's Y Girls Code program, which financially empowers young women and girls—especially those of color—by preparing them for high-paying careers in technology. 
According to the Charleston Digital Corridor's Annual Wage & Job Growth Survey, the average per-capita wage at companies participating in its 2021 survey was $101,710: twice South Carolina's average wage of $46,230 and the Charleston region's average wage of $50,810, according to May 2020 data from the U.S. Bureau of Labor Statistics.
"This grant by Power:Ed will enable us to further expand our Y Girls Code clubs to young women of high school age," said LaVanda Brown, executive director of YWCA Greater Charleston.
The goal is to create a pipeline of future engineers and technologically savvy women in South Carolina to increase the pool of eligible women needed to actualize equity in the tech industry.
Breaking down barriers to STEM-related professions is vital for the economic advancement of women, especially women of color. Y Girls Code utilizes a proven curriculum from Girls Who Code, enabling participants to learn key coding concepts and develop projects that solve real-life problems in their own communities.
"Y Girls Code has grown from one to four Charleston-area schools and three libraries in under six years," said Power:Ed Director Claire Gibbons. "With these additional resources supporting full-time staff, Power:Ed is excited to see what YWCA Greater Charleston will do, and the potentially transformative impact they will have on the lives and career opportunities of these young women."
In the first quarter of FY2022-23, Power:Ed has awarded six grants to South Carolina education and career readiness nonprofits, including YWCA Greater Charleston, totaling nearly $219,000. Grants are administered quarterly and the deadline for the next round of grant funding is October 1, 2022.
"YWCA Greater Charleston is proud to be a part of Power:Ed and the work they are doing across the state to improve the lives and educational access of South Carolina's youth," said Brown. "This funding opportunity will be a game changer in helping us take our program to many more young women across the tri-county region."
-more-
About YWCA Greater Charleston
For 115 years, YWCA Greater Charleston has worked to eliminate racism and empower women in South Carolina's Charleston, Berkeley, and Dorchester Counties. Among its initiatives to eliminate racism are its MLK Celebration, one of Charleston's longest running events, and Racial Equity Institute workshops equipping local leaders and laypeople to address racism. It empowers women with its #WhatWomenBring event honoring women leaders in business, community, and culture; WE 360°, helping women of color overcome barriers in entrepreneurship; and more. It brought the first Girls Who Code club for middle school girls to Charleston; today its Y Girls Code program includes students of all ages. Its SheStrong program equips young women in high school to develop as leaders and changemakers. For more information, visit ywcagc.org.  
About Power:Ed
Founded in 2019, Power:Ed, a philanthropy of SC Student Loan is dedicated to creating opportunities for South Carolina's youth and adults by supporting low-income, minority, and first-generation students; improving access to college and degree completion; and creating pathways to quality workforce opportunities. Organizations serving middle school through post-college talent who are interested in applying for a grant or partnering with Power:Ed, should visit power-ed.org.
 
Back to News